Despite being in the depths of poverty and thus despair (I have £17 to last me 18 days!) I've been persuaded to go out with my pals tonight as its our last night out together for a couple of weeks. We're going to a charming little dive in Chatham, where the drinks are buy one get TWO free! So I've been promised everyone's free drinks so i can hopefully get drunk and not dip into my precious £17.
Here is what I plan to wear. I look really dreadful today facially so I just decided to take a pic of the garments. There may be some live action shots on facebook by tomorrow, though! So I shall post if there's any decent ones.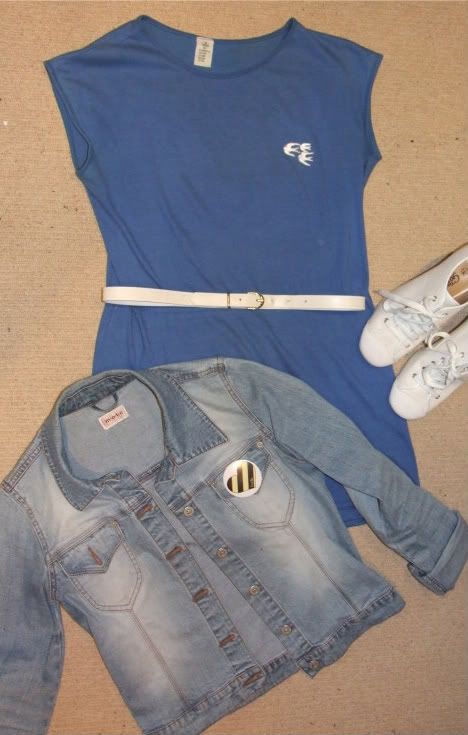 Dress - vintage
Belt - Vintage
Shoes - New Look (£3!)
Jacket - Topshop from about 7 years ago
Badge - Luella! ♥
I got the badge when I had to go to the Luella shop in London for a uni project and just take notes on the interior and stuff. The staff were so lovely even though they knew I didn't have a bean to spend in there! I had to go round a few shops in london and also try and get packaging samples so i thought i'd try my luck in luella and they gave me Luella printed postcards, tissue paper and stickers! But the best part was when I saw a tub of badges for £5 each. I snapped one up right away! Luella is my fave, and I thought it was really cool and clever how she knows she is popular with girls my age, the student type, so by doing badges everyone can have a piece of the Luella pie, even if we can't afford the clothing just yet.
Am in a hurry to go out now so have a lovely easter if I don't post before then. And don't forget the true message of easter.. don't eat your chocolate too fast. It will only end badly. And lethargically.
xo