So, on saturday, I went into town to buy some mags with my precious few pennies I have left until this Friday. I bought Nylon, Dazed, and i-D. £12 later, whilst reading them, I couldn't help but feel cheated. I think I'm in a magazine rut. I always furiously flick through my new mags, hoping something will catch my attention and make the dollars worthwhile. But Dazed and i-D rarely seem to. Nylon is one of my favourites but the sickly sweetness sometimes gets to me a bit. Why do all these magazines praise everything? Is there a Fashion magazine out there that will say when they think something is a bit shit? I really want to find one! Or even start one, someday... I'm not saying I want to spend money to read a magazine that sends me into a pessimistic-comment-induced depression, but something that is truly honest, not kissing up to designers or brands and not sounding like a neverending sales pitch. Like Vice, but with pretty pictures, perhaps? Recommendations appreciated!
Anyhow, I took a slightly creepy outfit pic. Maybe my head is spinning from the prior magazine sugar rush?

Top (DIY-ed) - Stella McCartney @ Tkmaxx
Belt - Vintage
Jeans - Gap
Flats - Vintage Russell & Bromley
That night, I went to a Pirate fancy dress party. I hadn't prepared a costume or anything but luckily I seem to own fairly piratey clothes.

Waiscoat - h&m
Scarf - from a pal
Top - Topshop
Shorts - Asda
Belt - h&m
Tights - who knows? I found it incredibly hard to deliberately ladder them though, making me wonder how I manage to ladder every pair of tights I own. I actually resorted to scissors in the end!
Boots - Vintage
On Sunday, I had work.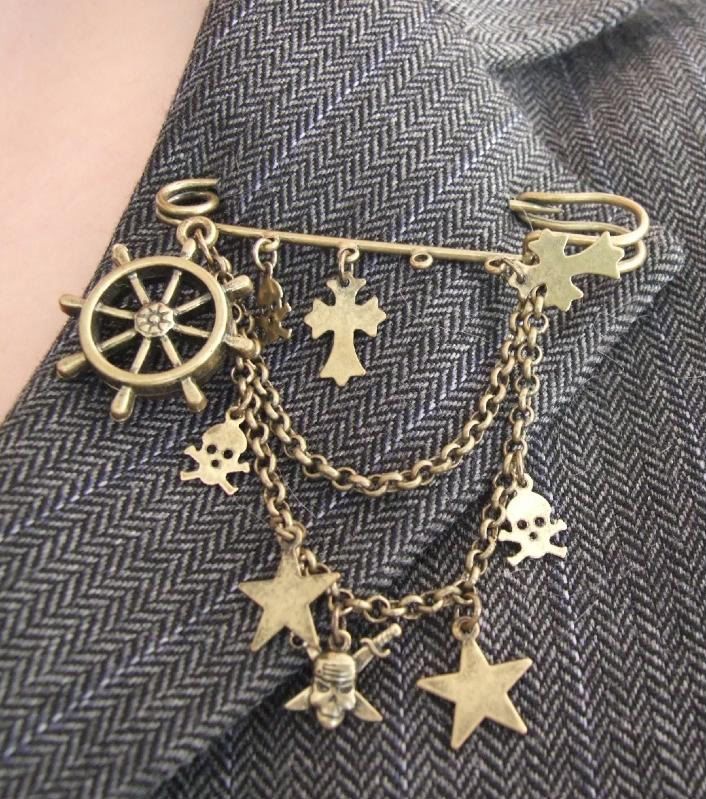 Coral t-shirt dress - Topshop
Blazer - M&S via charity shop
Bag - Vintage
Pin - Snooper's Paradise in brighton
Leggings - New Look (don't buy leggings from New Look, they cause immense crotch-sag)
I also did all my
mannequins
for Topshop (as part of a training scheme to get me to 'standard level' as opposed to 'training level' where I currently reside). The task was to dress 3 to represent each trend (Memphis - boho, Miami Vice - 80's ish and Buccaneer - tailored and nautical but feminine), so I did those and 2 extra mixy matchy ones (the 2 on the right) which were to my personal taste.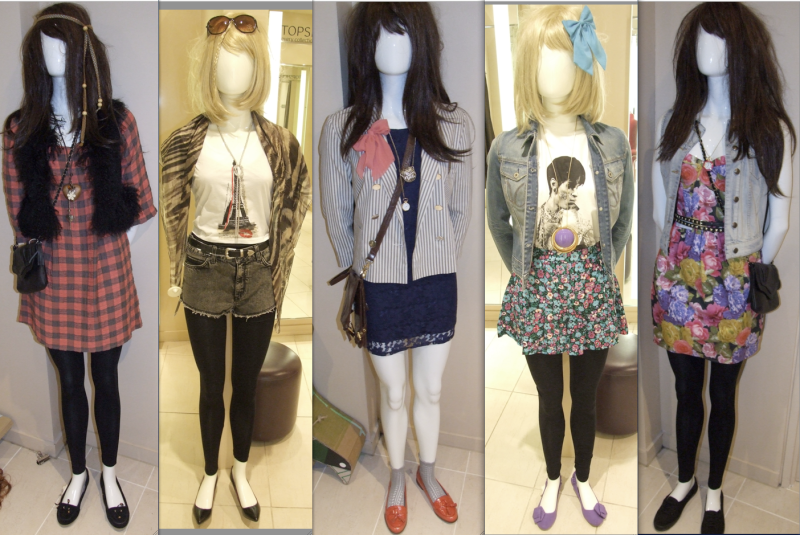 This task further proved to me that I cannot 'do' boho in any way shape or form (first mannequin on the left). She just doesn't look right to me. But nevermind! I have completed the task so that's all that matters!
Watching pre-recorded Come Dine With Me with the boyf, now! Can't wait! I want to be on that show.
xo