I'm not sure if I just need a shopping spree, but I recently feel like I not only have nothing to wear, but I just can't think of new ways to wear the stuff I do own. I have rarely had this problem before. I decided to play a bit of dress up this evening and I think the first outfit demonstrates my point brilliantly...
Peculiar 'mid-waist' shorts? CHECK! Visibly cheap & irrelevant shoes? CHECK! Pastel woolliness? CHECK!
What is happening to me? I hope it's just a lack of inspiration. It's not even that the outfit is THAT bad, but it just doesn't reflect me at all. Not one iota. Where is the rock chick undertone? Nowhere!
Anyway, things improved slightly with the entrance of my bad-ass-bitch side!
A slightly less bad-ass variation on the theme (ie. heels instead of cons!):
I cheered myself up after my identity crisis by wearing my new Marimekko h&m playsuit. I found it on Ebay recently and it was one of the happiest moments of my month! When I went to Paris earlier in the year, around the time the h&m Marimekko stuff just came out, I trawled every h&m looking for it. "AVES VOUS MARIMEKKO???" I asked the sales assistants who didn't have the foggiest idea what I was on about, even though a couple of the h&m's did actually have it! Just as well I wasn't a mystery shopper otherwise they'd have lost serious marks for product knowledge! I digress, the lovely playsuit was nowhere to be found.
Until now!
I haven't outed it yet, Am a bit worried about the bumminess of it (as demonstrated below!) Is it okay to practically reveal buttcheek if there's some opaques thrown in the mix? I hope so! Because I'm loving this. Maybe with a long cardi it will be better, not to mention warmer.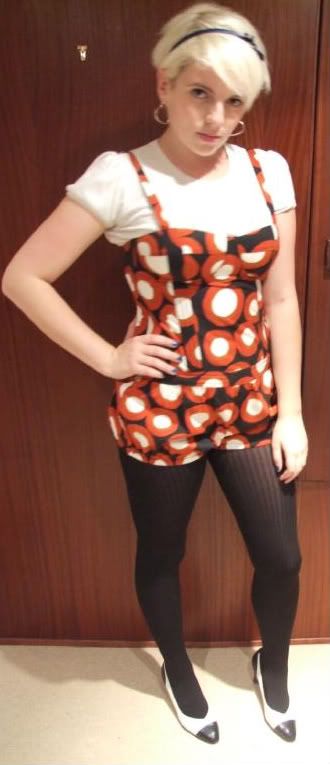 I love how the shorts are really puffy, they make me look quite bootylicious, which I don't mind at all!
I think I'll go round the charity shops tomorrow and look for some new clobber. What I really want is some high waisted denim shorts and a few cute slight-baggy t-shirts. Preferably with cats on. I think that could be the cure. Cats are always the cure.
xo