Here's a couple of pics of me in today's cosy rainy day attire!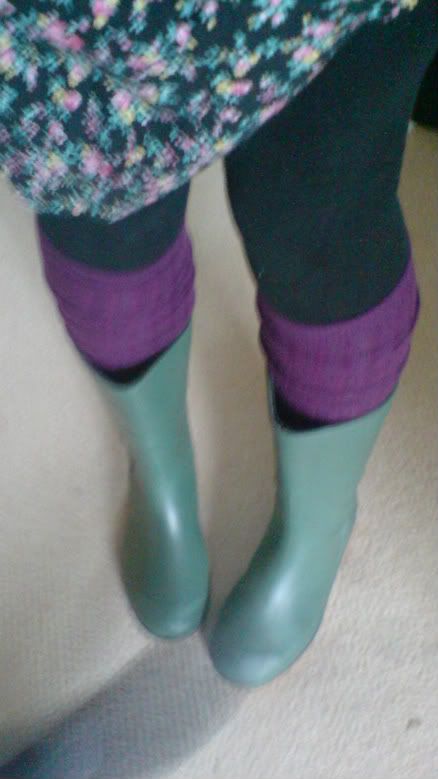 Cardigan - Topshop
Dress - Primark
Belt - h&m
Necklace - Claire's
Leggings - h&m
Socks - Primark
Wellies - Priceless shoes
I'm wearing my new long cardigan from Toppers. Just a couple of weeks ago, I wouldn't have given 2 figs about long cardigans, but I've seen two pics of Peaches Geldof wearing them and they just look so lovely! They add a really nice grown-up dimension to an outfit, whereas normal cardi's can give a preppy/school vibe. But I won't be banishing my
threadbare h&m cardi
to the back of the cupboard just yet!
I am embarrassed to have been such a sucker for celeb-style! I do try and be individual but I suppose there's no shame in finding inspiration in various places...
The blur at the bottom of the second pic is my boyfriend's foot. He was trying to hijack the picture. He also wants me to post pictures of his new skate shorts but I let him down gently :)
I've been thinking about what to wear for the first day of uni and although the gorgeous lady from
Freelancer's Fashion Blog
suggested heels and a dress, which I had in mind, I've remembered the Uni is up a steep and yucky hill so I don't want to be walking like a cripple before I've even set foot in the joint! So I've been considering a more casual but cute look,
maybe something along these lines
?
xo